Collection
Timstor's collection contains more than 2000 Christmas items.
These are divided into the following product categories: scenes, Santa clauses, nutcrackers, fiberglass, gingerbread, gnomes, Carol singers, angels, elves, nativity, metal, decoration, snowing articles, lighting, animals and gadgets.
From dancing Santas to nutcrackers and even Christmas-inspired streetlanterns, you'll find everything in our collection!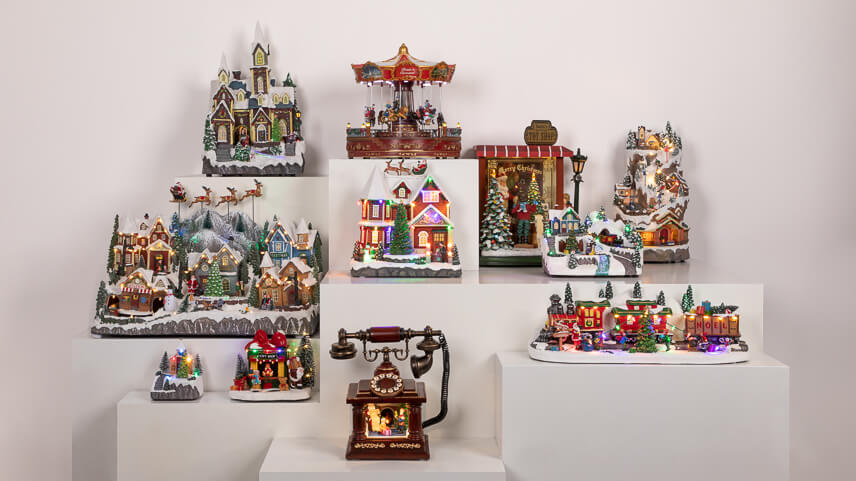 Scenes
Immerse yourself in Christmas nostalgia and take a stroll through our scene collection. We are the N°1 specialist in Christmas villages, Christmas houses and carousels. Most of our scenes have moving parts, animated figures, music and LED lights.
"In our extremely wide collection there is certainly something for everyone."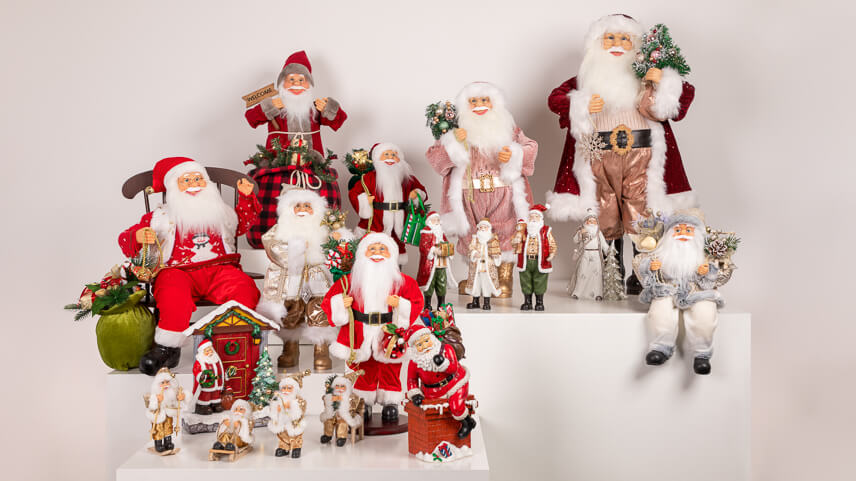 Santa Clauses
Discover our beautiful Santa collection. Our happy-faced Santas come in all shapes and sizes, from the traditional polystone Santa Claus to fabric Christmas dolls.
"They wear beautiful costumes and are made of quality materials, with an eye for detail."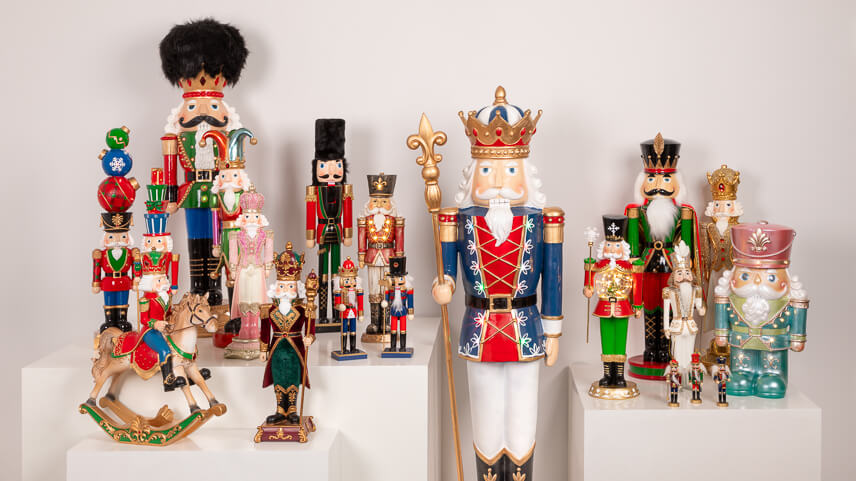 Nutcrackers
Welcome to the colorful world of our nutcrackers that have been an important part of our collection for several years now. Each nutcracker has a beautiful shine. Materials vary from polystone to wood.
"Some nutcrackers have lights too!"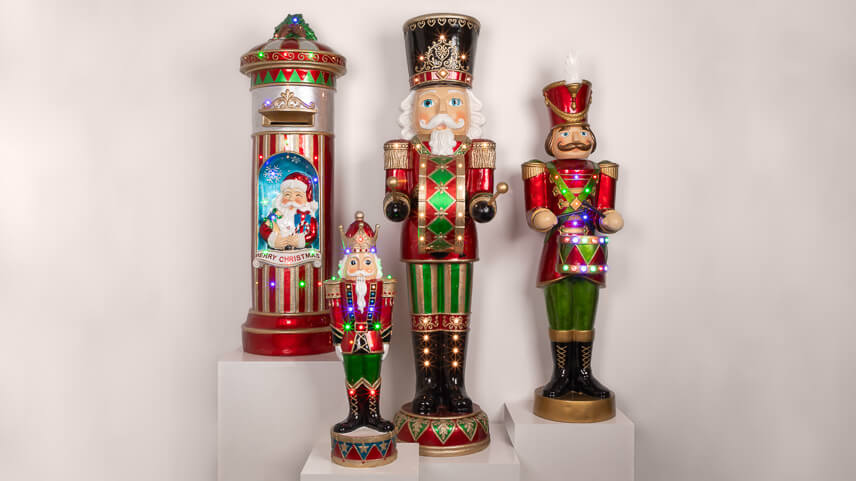 Fiberglass
These statues are made of the very best quality and are mainly for outdoor use. Also these large statues have light and some of them even have movement and music.
"These fiberglass items are certainly a nice entry into any location."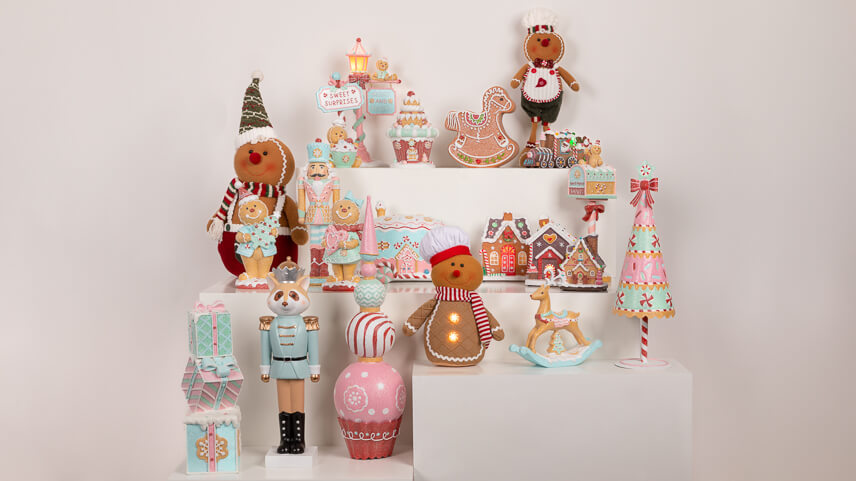 Gingerbread
Our newest theme and definitely a must. A variety of cookies and candies in polystone, fabric dolls and metal articles, especially in the typical pink pastel colors.
"This collection is a real trend for Christmas 2022"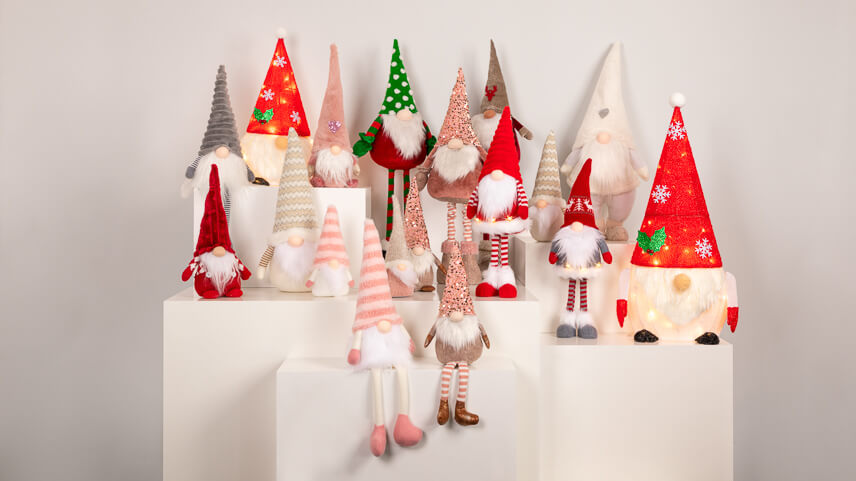 Gnomes
Would you like to try something different than a traditional Santa Claus? Then we also have gnomes in our collection. With their nose and beard, these dolls provide a funny but also cute note!
"Available in different fabrics and colours, some even with lights!"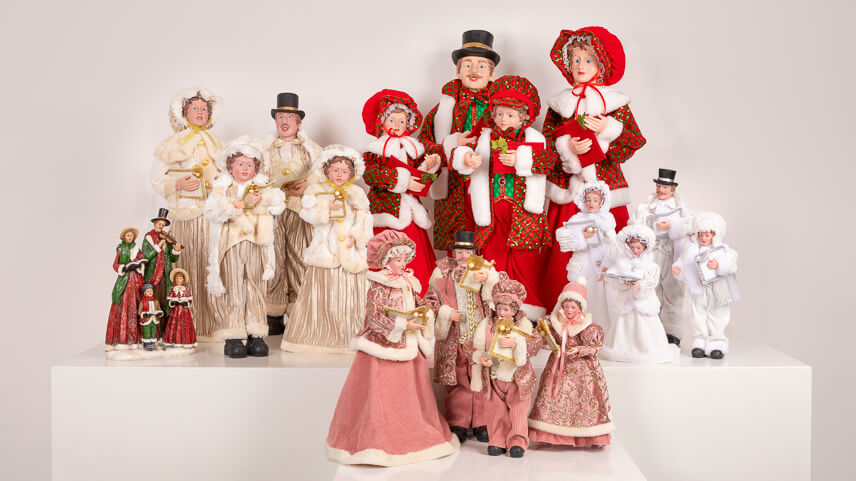 ​

Carol singers

​

The traditional Carol family has been in our collection for several years and continues to appeal to the imagination of many. The fabric version is available in different sizes and colours.

"They are luxurious and make a beautiful decorative choir!"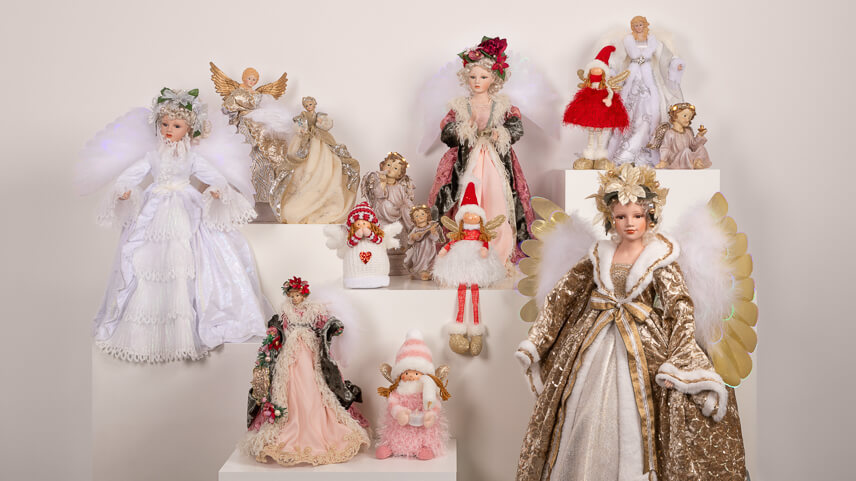 Angels
Our beautifully detailed angels, with microfiber in their moving wings, are available in a variety of colors and finishes.
"Also the other angels in our collection appeal to the imagination and let you dream on."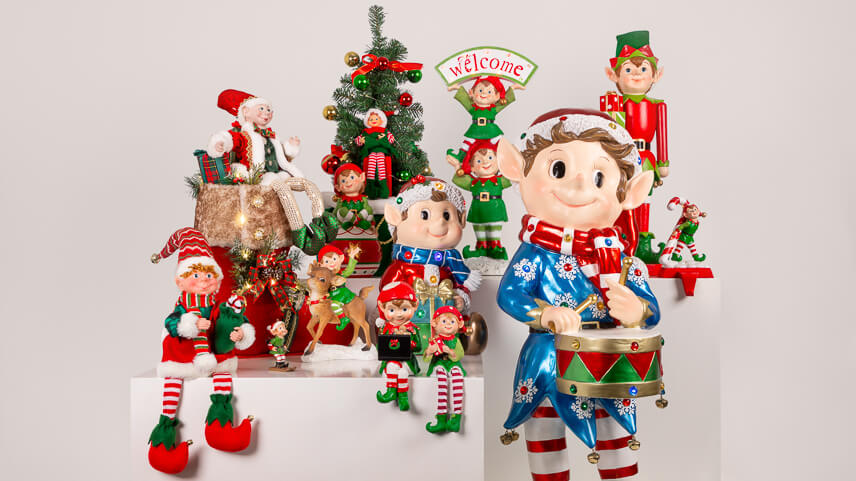 Elves
A colorful collection of Santa's best helpers, in different sizes and shapes.
"Traditional with bright colored clothes, cute faces, pointed ears and shoes with a curl."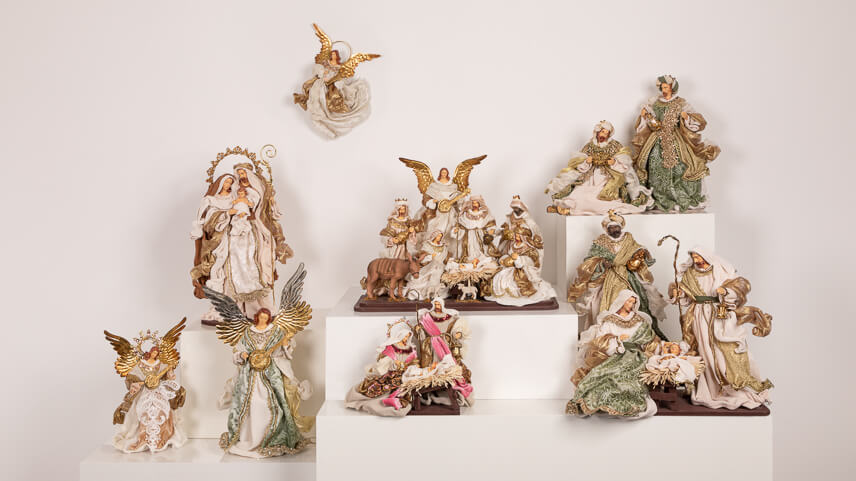 Nativity
Hold fast to tradition with a nativity scene or set. Luxuriously finished in high quality materials, our nativity sets are available in different sizes and designs.
Metal
American letterboxes with a beautiful print, red-green gifts or a large illuminated sleigh.
"This collection in metal is definitely recommended if you love colour. Very high quality and decorative!"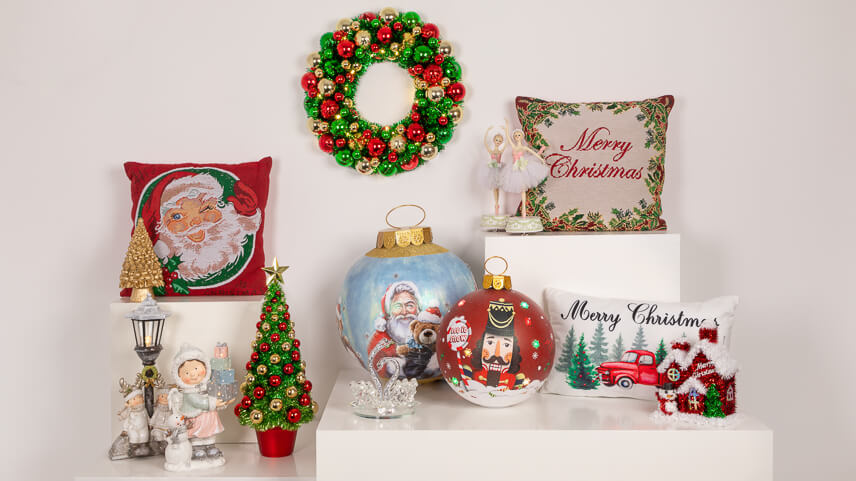 Decoration
To put the finishing touches to your decoration or to get your entire house ready for Christmas.
"In this wide range you can find all kinds of Christmas decorations, from pillows with a Christmas motif to ornaments, polystone figurines etc."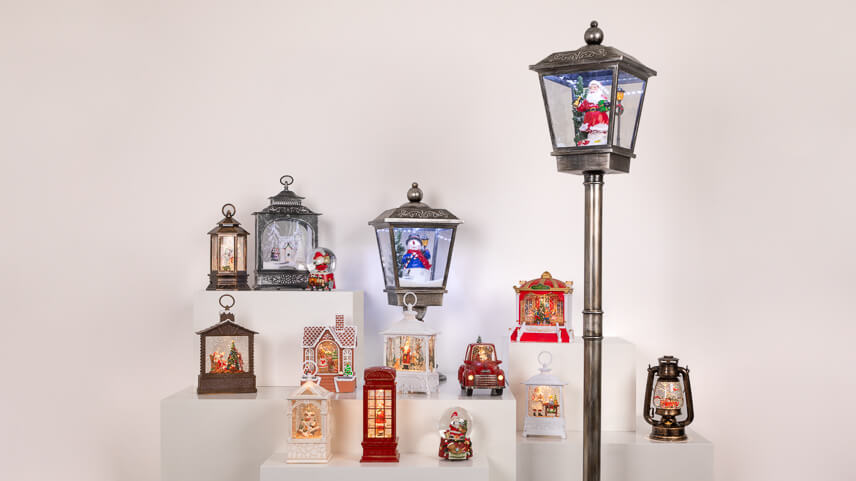 Snowing Articles
Bring the atmosphere of a white Christmas into your home with these snowing items. From our decorative snowing lanterns to the wide range of watersnowing globes. The traditional or rustic models are made with careful craftsmanship and are a beautiful reflection of the Christmas atmosphere.
"LED lights and snowing glitter add to the winter warmth."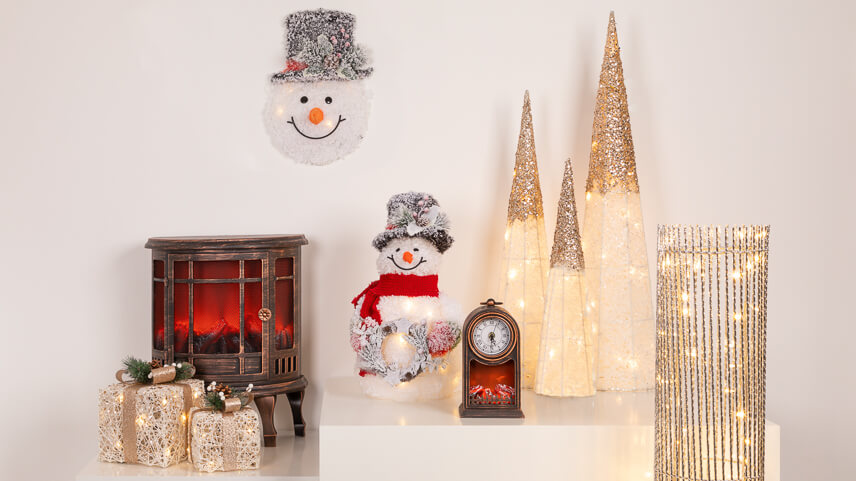 Lighting
Discover our collection for indoor and outdoor use. From beautiful atmospheric gift boxes, illuminated flower wreaths and fireplaces with an atmospheric fire for indoors to large illuminated trees or frames for outdoor use.
"Something for everyone!"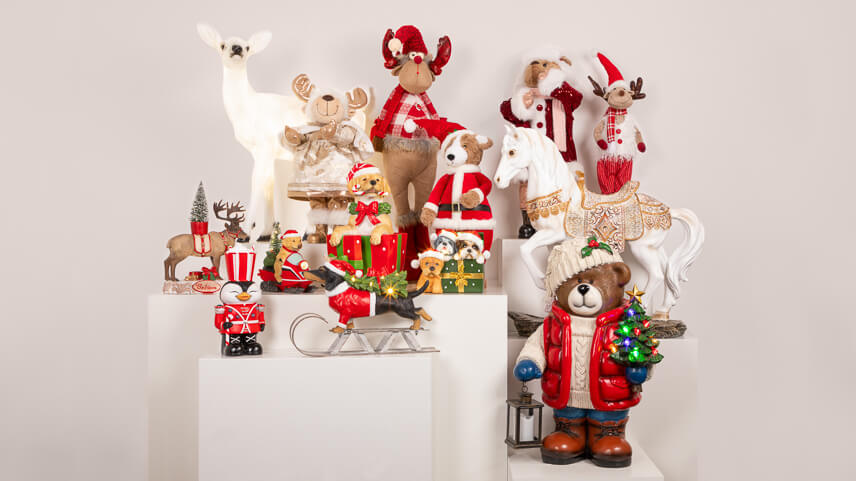 Animals
So cute! This extensive collection brings you illuminated deer, fabric bears, poly dogs, in various designs and so much more.
"Be charmed by beautifully finished animals that you want to take home with you."
Gadgets
Get the party started with twinkling or traditional Christmas hats. Let the pets join in the celebration in a funny Christmas outfit. The Christmas socks with print provide an extra nice touch, but certainly also the necessary comfort!
"Fun for all with our crazy Christmas gadgets."