Collection
Timstor's collection contains more than 2000 Christmas items.
These are divided into the following product categories: Santas, nutcrackers, water spinning, animals, Carol singers, collector items, scenes, nativity, decoration, snowing, lighting, toys, angels and gadgets.
From dancing Santas to nutcrackers and even Christmas-inspired streetlanterns, you'll find everything in our collection!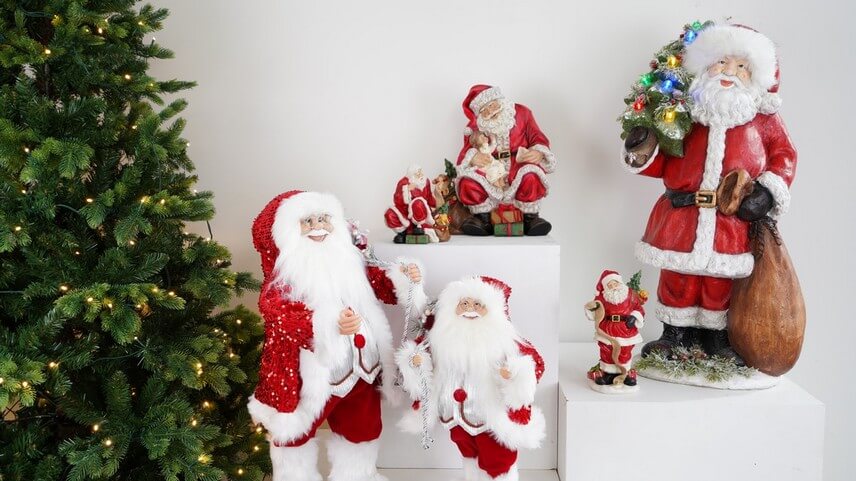 Santas
Discover our beautiful Santa collection. From traditional Santa's to Santa's on ski's, our jolly Santa's come in many different shapes and sizes. Their variety of luxurious costumes and radiant faces are made with an incredible eye for detail and in qualitative materials.
"Don't forget to check out our wide offer of Santa's in promotion!"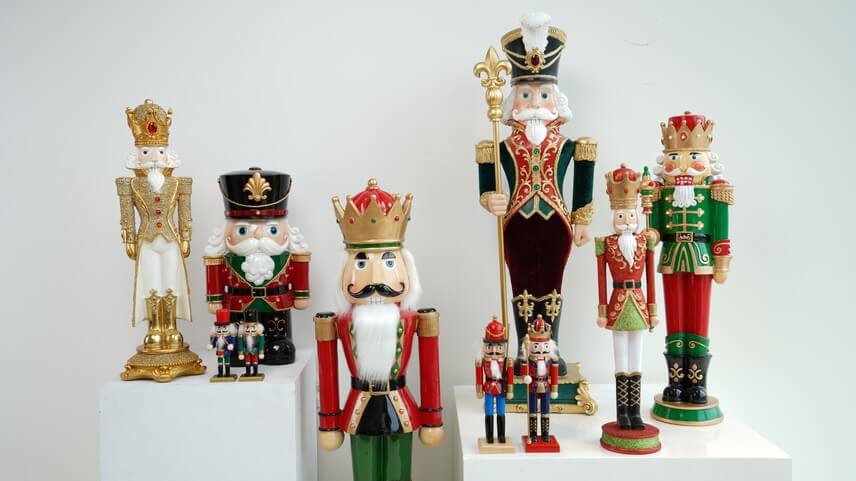 Nutcrackers
Welcome to the colourful world of our decorative nutcrackers. Some with extra festive lights, each one shiny and lovingly finished in materials ranging from polystone to wood. Our smallest nutcrackers are lovely Christmas tree ornaments, our largest tower to over 2m high.
"This grand collection is thé trend for coming Christmas."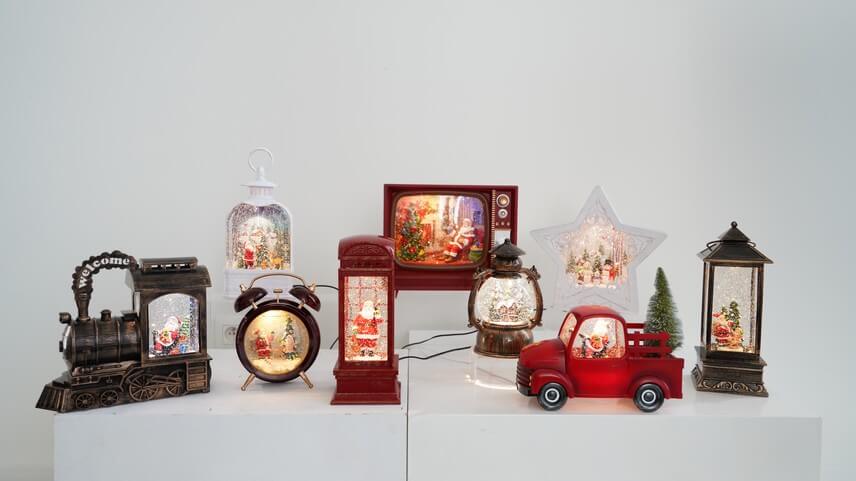 Water spinning
Call the true feeling of a white Christmas to mind with our watersnowing globes, giftboxes, telephone cells, TV, alarm clock, giftbox, cars, trains and trucks. The careful craftsmanship of the traditional or rustic scenes capture the Christmas spirit beautifully. Led lighting and animations add to the holiday warmth.
"Watersnowing ornaments are absolute top sellers. "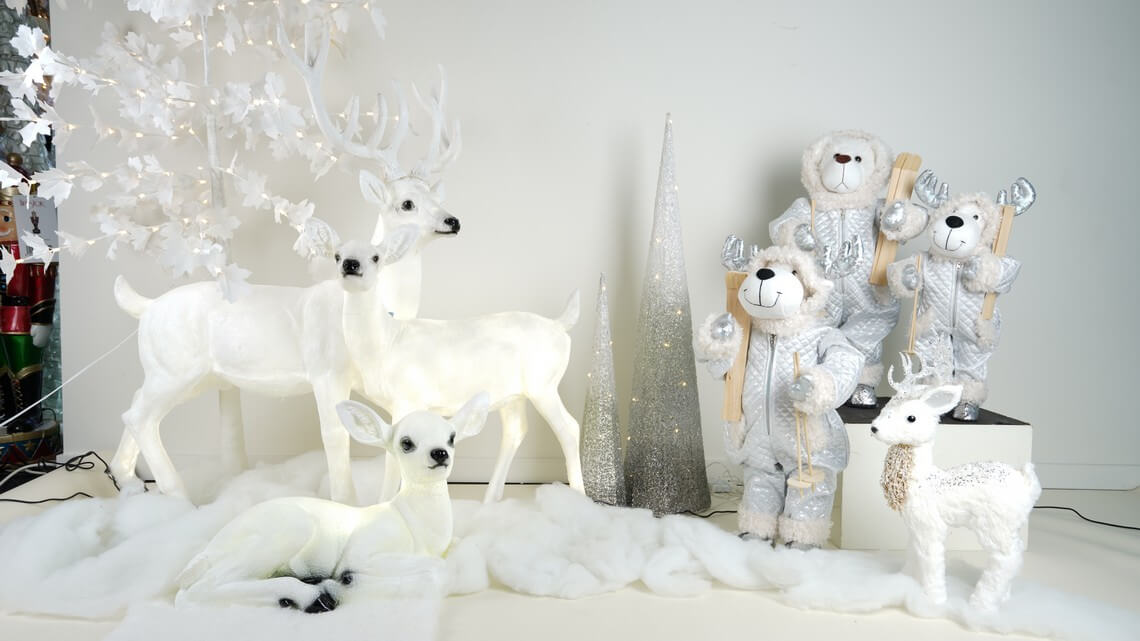 Animals
Cuteness alert! This huge collection presents softly illuminated deer, pinguins and polar bears, feathered swans, glittery owls and furry deer in a vast variety of positions and sizes. Be amazed by our broad range of reindeer, the gorgeous materials and the exquisite finishings.
"Our animals are all made in highest quality plastics, imitation fur, polystone, ice and fabrics."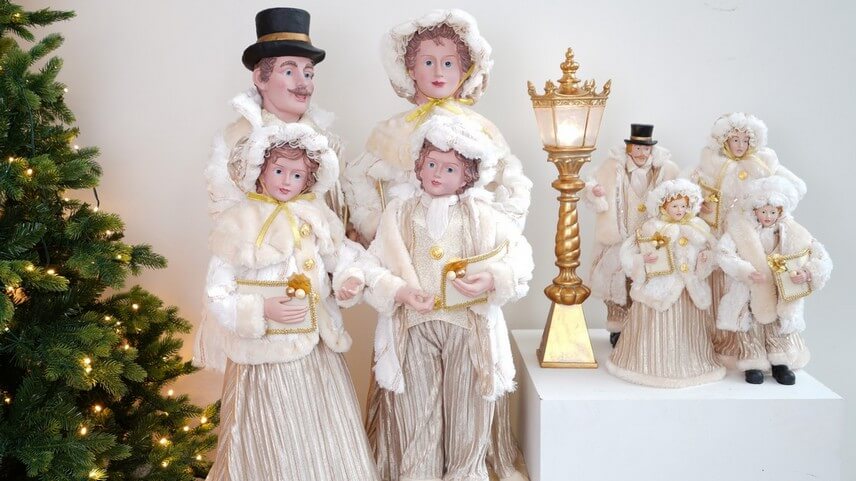 Carol Singer Set
Guaranteed to warm your heart and inspire your vocal cords, this unique collection of 4 carol singers comes in 3 sizes. Made with an incredible eye for detail and luxuriously dressed in gold, silver or red.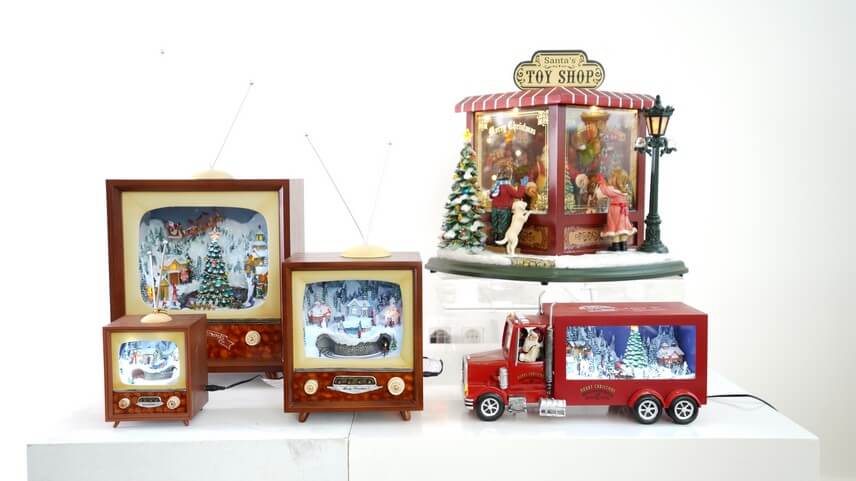 Collector Items
Be enchanted by the toy store, the tv and the trucks, crafted to the tiniest detail and discover the precision of the animations, the lighting and the beautiful materials.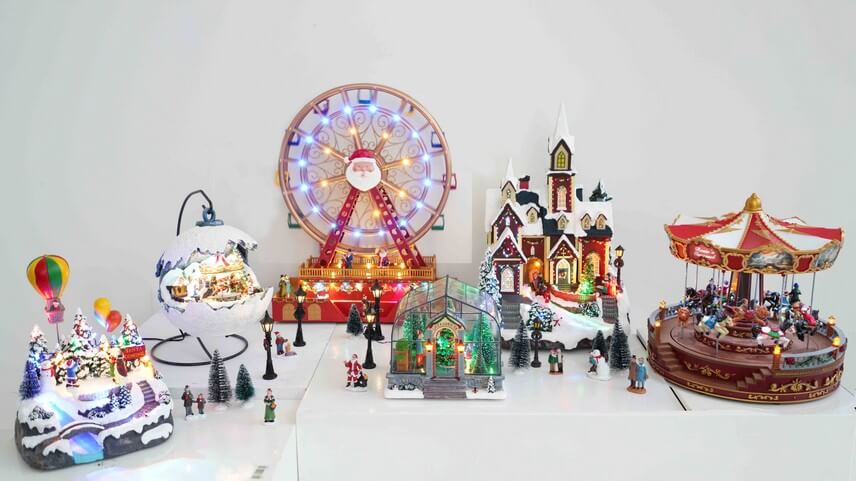 Scenes
Lose yourself in the nostalgia of Christmas while wandering through our enormous scenes collection. With moving parts and animated figurines, music and led lighting we are the nr1 specialist in Christmas scenes. Our unique offering includes scenes with snowmen, Christmas trees and baubles, houses and churches, all made with utmost precision and eye for detail.
"Something for everyone in this infinite collection of Christmas scenes."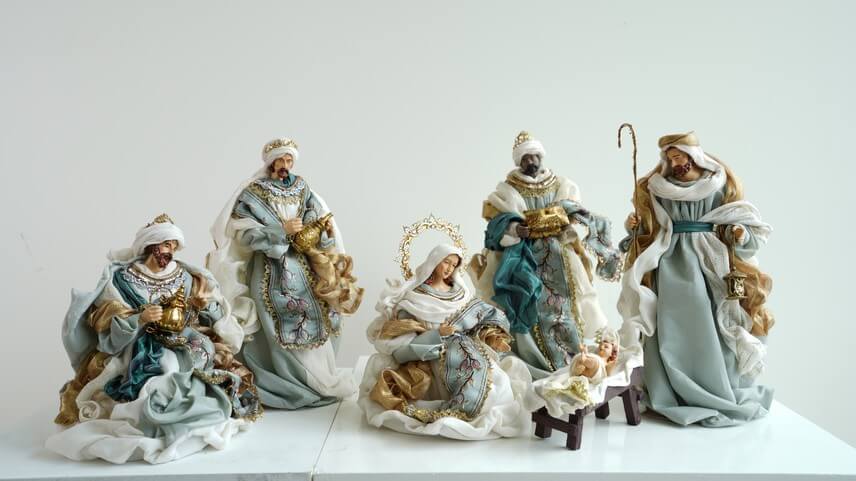 Nativity
Hold fast to tradition with a nativity scene or set. Luxuriously finished in high quality materials, our nativity sets are available in different sizes and designs.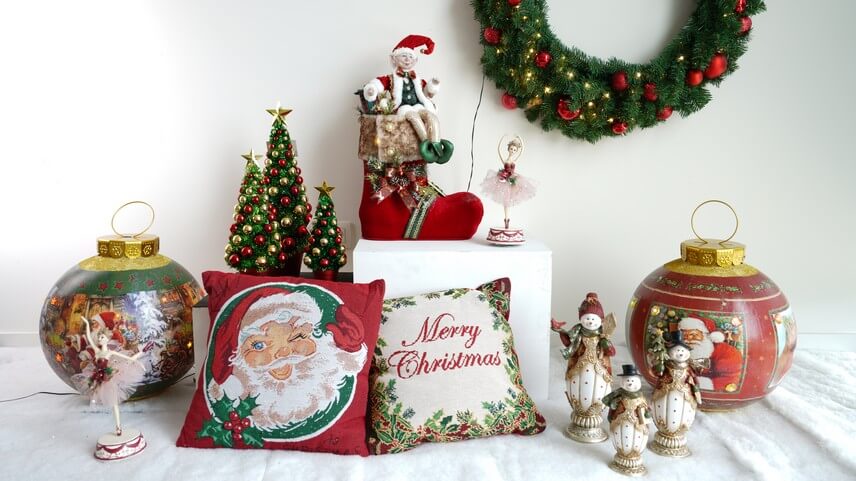 Decoration
For the finishing touch or for going all the way to bring Christmas to life. Our mood makers in this collection are the Christmas wreaths decorated with baubles in different colours, chandeliers and delicate figures in acryl, a wide variety of ornaments, music boxes, decorated christmas trees, …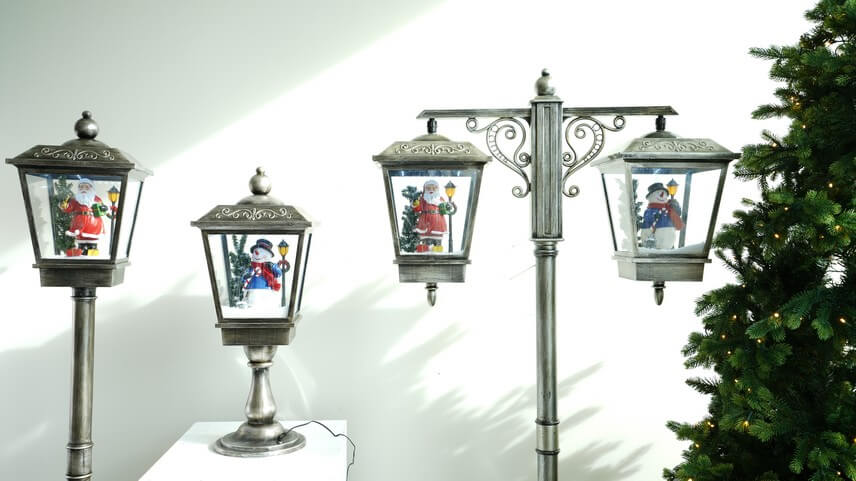 Snowing Lanterns
Lighten those darkest days of the year with our decorative hanging, floor and table lanterns in black, white, silver or bronze. The cute scenes displayed in the snowy lanterns, illuminated by a soft LED lighting will certainly enchant you.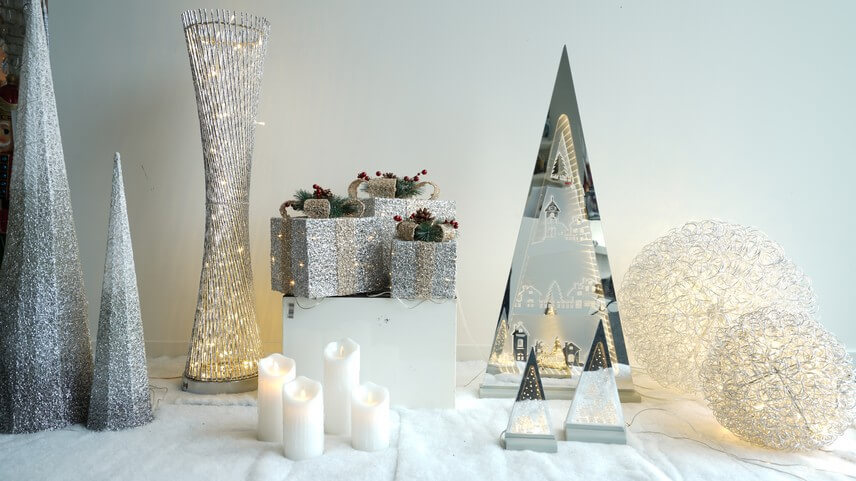 Lighting
Discover our large indoor and outdoor lighting collection. From LED signs wishing you a Merry Xmas to decorative sleighs, reindeer and snowmen – lighting always has a distinct effect. Gorgeous sets of lighted giftboxes, flower garlands and decorative cones in different colours are the finishing touch to any decoration. Look up and see our silhouette lamps with LED lighting and lighted golden trees. Look down and discover our illuminated floor tiles.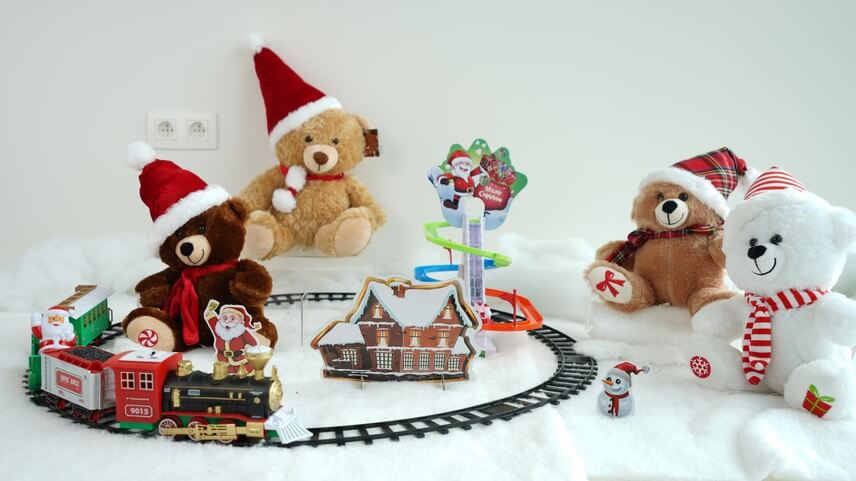 Toys
Cute and cuddly Christmas toys, fun games and a Christmas Train powered by batteries!
"Santa's stocking fillers."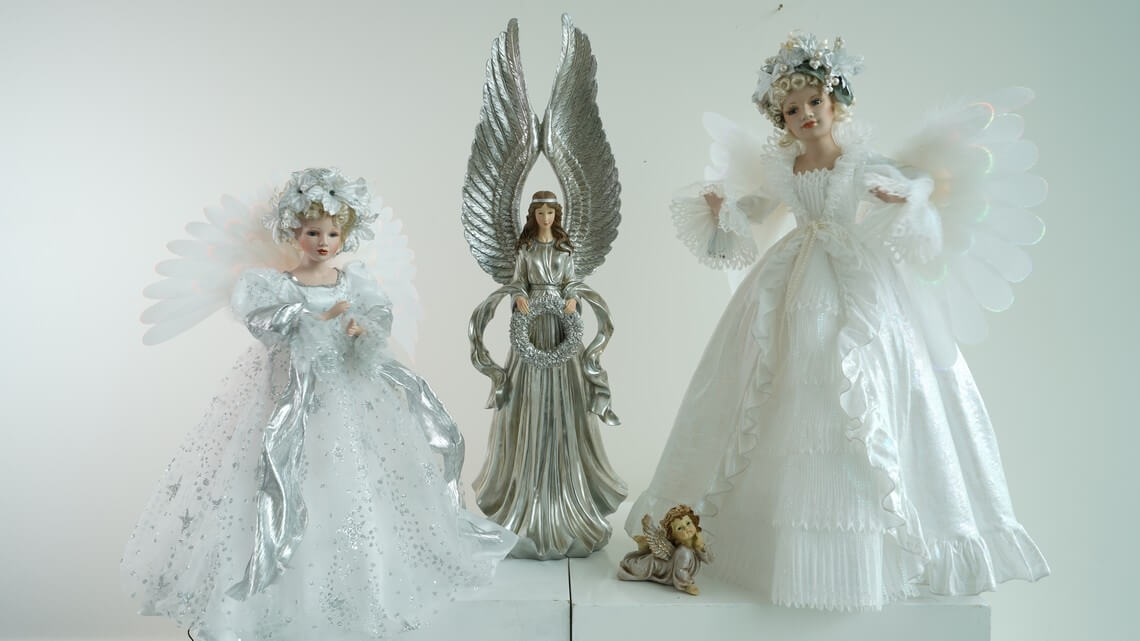 Angels
Beautifully detailled and unique, our glamourous angels can move and come in different colours and finishings. This exquisite collection is available with or without LED, highlighting the angelic faces and shimmering wings.
Gadgets
Get the party going with sparkly and musical Santa Claus hats, Christmas pins and earrings and snowman and reindeer hairbands. Dress up everyone including the dogs with cute doggy santa outfits and complete the Christmas madness with decorative doormats and toilet covers.
"Fun for all with our crazy Christmas gadgets."